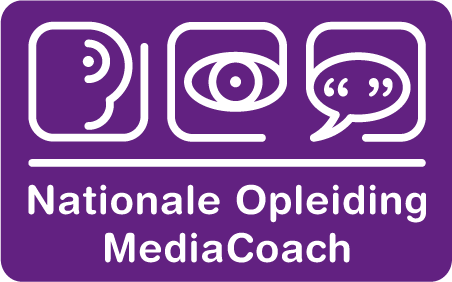 In 2007 the Dutch Academy for Media & Society (www.mediaenmaatschappij.nl) started the very successful post graduate National MediaCoach Training (www.nomc.nl) for teachers, librarians and youth workers. Since 2007 more than 500 professionals were trained in Holland as National MediaCoaches.
Post graduate National MediaCoachTraining
In July 2005 the Dutch Council of Culture wrote an advice to the government on how to improve media literacy in the Netherlands. In this document called ' Media wijsheid, op weg naar nieuw burgerschap' the Council also advised to train professionals in education as MediaCoaches. This would accelerate the improvement of media literacy among children enormously. With a national network of MediaCoaches many new projects could be initiated on a local level.
1.1 Expert Meetings
Based on this advise Media Rakkers took the initiative to bring 2 groups of experts together to discuss societal expectations, the required
competence levels of future MediaCoaches, a possible curriculum for the training and possible business models that would guarantee independency.
Organizations that were involved in the expert meetings were among others:
Media Rakkers – independent knowledge centre on Youth and Media

De Waag - digital expertise centre

VOB - Association of Dutch libraries

ProBiblio - Regional Library Organisation

Kennisnet – Digital educational portal by Dutch Ministry of Education

NIcam – Netherlands Institute of Classification of AudioVisual Media

De Kinderconsument – Consumer organization

NJI – The Dutch Institute of Youth

UvA – University of Amsterdam
The most important conclusion of the expert meetings is that in the Netherlands there is a big need for a MediaCoach Training among teachers and librarians, who suffer from a considerable digital divide. The expert groups defined some important principles for the training course:
The MediaCoach training should be available to professionals in education, libraries and youth organizations, so that the knowledge will be widely distributed in society.

The MediaCoach training is a 'Train-the-Trainer' concept, which means that MediaCoaches should be trained in developing and executing media literacy projects independently for colleagues, parents and other professional educators.

Children should not be seen as defenseless victims of media, but we have to make them stronger, aware and critical in their usage of media.

The contents of the training should focus on both positive as well as negative effect of the media on children.

The Nationale Opleiding MediaCoach should be set up as a national network of MediaCoaches, with a valuable yearly refresher program.

The position of National MediaCoaches should be promoted by an official certificate, a national network and by national projects taking place on a regular basis.

The MediaCoach training should mainly focus on the understanding of the psychology of media and less on developing technical media skills.
1.2 Curriculum of the Nationale Opleiding MediaCoach
The expert groups had an extensive discussion on the curriculum of the MediaCoach training. The groups agreed on using the definition on media literacy introduced by the Council of Culture in 2005 as the basis for the contents of the training;
Media Literacy is the combination of knowledge, skills and mentality that people need to consciously, critically and actively participate in this rapidly changing, fundamentally medialized world (1)
(1) Raad voor Cultuur, juli 2005
Based on this definition the expert groups defined 4 competence levels of media literacy, on which the curriculum was built:
Media Aware

Media Understanding

Media Attitude

Media Behavior
1. Media Awareness
The first step in developing media literacy is improving the media awareness of the different target groups. It is important to be aware of the different media, the role they play in people's lives and the way we are depending on the media. Topics such as media addiction and the history of media will be addressed in this phase.
2. Media Understanding
Media Understanding means that people start to understand how media content is created and which factors of impact play a role in that process. A recent study (2) by the University of Tilburg reported on the following impact factors, that were included in the MediaCoach training;
Professional factors

Social and cultural factors

Economic factors

Political factors
3. Media Attitude
The next competence level of media literacy is about reflecting on media content, developing your own opinion and comparing your vision to those of others.
4. Media Behavior
Finally it is important to apply all the knowledge, skills and mentality into your own media behavior, from sending a text message, to blogging, to producing websites, film and photo's.
(2) Lonneke van Asseldonk, 2008
1.3 Competences Nationaal MediaCoach
The National MediaCoach should have developed different types of competences during the training: Knowledge, Skills, Vision and Mentality. The training focuses on translating these compentences into measurable and effective media literacy projects, which will make the MediaCoach successful in practice.
Knowledge
The National MediaCoach develops necessary knowledge on media literacy, but is also aware of relevant media literacy projects in the Netherlands and abroad. The National MediaCoach has knowledge on all important media related topics which are part of societal discussions and on the different visions and opinions on these topics. New developments in media- and information technologies, relevant scientific sources, articles and research
1.1 Media and society
1.1.1 Media literacy, definitions and (inter)national projects
1.1.2 Societal discussions on media related topics
1.1.3 Media- and information technology.
1.1.4 Sciences and research
1.1.5 Information skills
1.2 Media and youth
1.2.1 Media perception by youth
1.2.2 Media usage by youth
Skills
The National MediaCoach develops a number of necessary skills they will need in practice. During the training they will train their coaching skills and the development of educational activities and materials. They will also train communication and presentation skills. After the training MediaCoaches will be able to independently design and execute media literacy projects, because they also learn about professional project management.
2.1 Coaching skills
2.2 Educational skills
2.3 Communication and presentation skills
2.4 Pragmatic project management
Vision and mentality
The National Opleiding MediaCoach teaches students to develop their own vision and mentality. Because of new media technologies National MediaCoaches should be able to anticipate on the future and that they can play a relevant role in their working environments. Libraries in the Netherlands are assigned to be regional media literacy desks. The National MediaCoach, working in a library, is able to develop an effective policy, to design necessary education for employees and to execute the media literacy desk function.
3.1 Media literacy in the future
3.2 Libraries and schools in the future
3.3 Libraries as media literacy desks
Obligatory refreshing program
In order to actualize the knowledge, skills and vision of the National MediaCoaches, Media Rakkers offers a annual refreshing program, which consists of:
Annual National MediaCoach Congress (March)
Regional refreshing trainings (September/October)
National MediaCoaches are required to participate in the refreshing program in order to annually renew their official National MediaCoach certificate. It means that they will meet their colleagues at the annual congress, where they will be involved in all kind of different topics and projects. Later in the year they will join the regional groups for a refreshing training, with new topics and regional co-operation on the agenda.